SUE's HEALING TOUCH MASSAGE
Healing Touch Body & Mind Wellness Center

104 Dry Mill Road, Suite 102
Leesburg, VA 20175
(703) 400-3184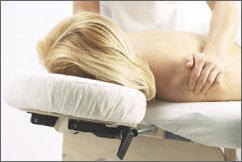 Benefits of Therapeutic Massage Therapy

Reduces stress, tension and anxiety
Improves circulation
Increases oxygen capacity
Improves nutrition delivery to tissues
Reduces swelling
Enhances relaxation
Improves immune & nervous systems
Reduces pain
Improves sleep
Relaxes muscle spasms
Increases body awareness
Increases mobility & range of motion
Improves digestion and assimilation
Conditions that may Benefit from Massage
Headache
Neck and back pain
Tingling in arms or legs
Stress, Tension, Fatigue
TMJ
Fibromyalgia
Chronic pain
Injuries
Difficulty sleeping
Menopausal discomforts
Muscle cramping
Soreness due to overwork
More people than ever before are adding massage therapy as a routine part of their lifestyle, according to the American Massage Therapy Association (AMTA), and they're using it to help relieve stress and pain, lower blood pressure, increase circulation and flexibility and even boost the immune system.
Massage therapy has grown so much in recent years that it's now on par with other complementary services like chiropractic and physical therapy, says the Associated Bodywork & Massage Professionals (ABMP). According to a study they commissioned, two out of five adults have visited a massage therapist, and 12 percent of American adults had at least one massage.
"What is striking about the overall survey results is that there are very few detractors, few negative expressions about massage," says Bob Benson, president of ABMP.
Some 96 percent of those who had at least one massage said they had favorable feelings toward massage therapists. The medical establishment, too, is embracing massage as a legit and beneficial form of treatment. The AMTA reports that one national survey found over half (54 percent) of primary care physicians and family practitioners would encourage their patients to pursue massage therapy as a treatment. Further, people surveyed over the last three years said that when they discuss massage therapy with their physicians, more than 70 percent responded favorably.
Even though massage is fast becoming the newest health "trend" in America, it is hardly a new phenomenon. Many ancient cultures embraced massage as a form of medical care. Egyptian tomb paintings show people being massaged, traditional Indian medicine, or Ayurveda, has long used massage with aromatic oils and spices, and massage has roots in Chinese, Greek and Roman cultures. It has even been said that Julius Caesar may have received one daily for neuralgia.
People use massage for many reasons. Here are just some of the health-enhancing benefits of massage, according to the AMTA:
Low Back Pain: A study by Beth Israel-Deaconess Center for Alternative Medicine Research and Education and the Center for Health Studies in Seattle found that massage provided long-term pain relief for those suffering from chronic low back pain.
Emotional and Physical Benefits for Cancer Patients: Women who have undergone a lumpectomy, mastectomy or breast reconstruction due to breast cancer have reported less pain and swelling after surgery by using massage. They also report that, emotionally, massage helps them to feel reconnected to their bodies.
Less Pain after Bypass Surgery: A study at Cedars-Sinai Medical Center in Los Angeles found that massage therapy reduces pain and muscle spasms in patients who have undergone heart bypass surgery. Sixty percent of those in the massage group said they'd continue to pay for massage therapy out-of-pocket.
Boost the Immune System: Research has shown that massage can increase the immune system's cytotoxic capacity, or the activity level of the body's natural "killer cells," while decreasing the number of T-cells. The result is an improvement in the body's immune system function.